SEO
How to get started with Agency360 – a step-by-step guide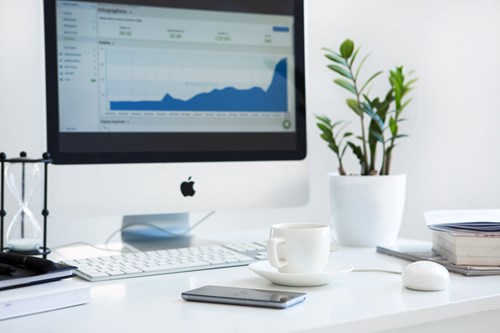 Check out our quick step-by-step guide to get started with our all-in-one platform.
Do you want to create professional and informative reports for your clients? Do you want to easily fetch data from analytical tools and showcase your hard work to your client?
Do you want to create professional and informative reports for your clients? Do you want to easily fetch data from analytical tools and showcase your hard work to your client?
Using our all-in-one automated platform, we can offer you a quick and easy solution to all of your reporting needs. Check out our easy guide to analyse, schedule and send customisable reports.
Start your free trial
We offer a free trial of our all-in-one automated platform. Try our platform out for 2 weeks with no commitment.
To get started, sign up for your free trial on our website.
Click on the start free trial button and fill out your information. The free trial lasts 14 days, with no obligations and no credit card details required.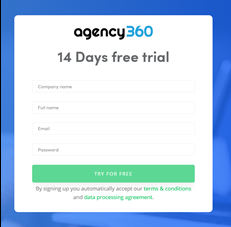 Manage all your clients in one place
Effectively managing your clients in different locations is not the easiest method. Why not have all your clients in one platform, where you can see a complete overview of each customer. Agency360's client's page can instantly show key information broken down for each client.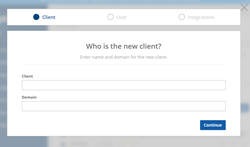 You can create your first client by clicking the "create client" button.
Fill out your clients' details and select which apps you would like to integrate with. You can choose from different analytical tools, and you can always come back to add another later on.
Congratulations, you've added your first client! Here, you will be able to see all your clients, along with an overview that shows each client's integrations and statistics.
This is a quick way to gain a quick overview of each client's statistics and performance. You can drag the toolbar across to see even more quick figures.

Creating professional, customised reports
Offer your clients the best service by creating professional and customised reports. Easy to read and well laid out, our platform can display all the relevant information so your client can easily understand your work.
Developing a tailor-made report has never been easier.
Simply click on Generate reports within your client's dashboard.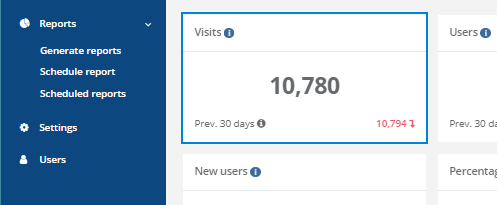 You will then be able to select which sections you want to include in the report, giving you the option to completely tailor your report for each client.
Perhaps you want to focus this report on Instagram activity only and exclude all other statistics.
We offer you complete flexibility on what you want to include in your reports, giving you complete control over every single aspect.
There is also the option to choose a time period for the report, allowing you to provide your clients with the most up to date information and data.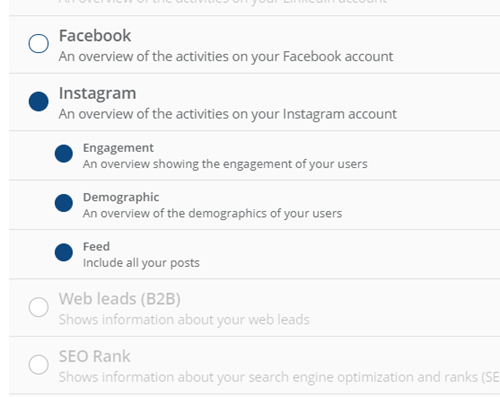 If you want to send the report as a PDF, simply select the button at the top of the page. The reports can also be sent as an Excel or CSV file. You can choose whichever file suits you and your client best, or which is the most appropriate for the type of report you are sending.
Remember to display the most important data first! Placing the most valuable information first gives an instant indication of the condition of their marketing objectives. Placing important data at the end of your report is a waste of time and may confuse your client.
4 tips for creating professional reports
1. Split your report into sections. This will make your report easier to read and less confusing. When you create reports with Agency360, your report is automatically split into sections - making for a clear and simple layout.
2. Assemble your data in one report. Rather than having many different reports on different aspects, your client will find it easier to digest one single report. This will make your report readable and useful. Use a tool that does all the calculations and all-in-one reporting for you. It'll be much quicker and save you time.
3. Use pictures as much as possible. Utilising colourful diagrams and charts is the easiest way to show patterns or trends. They are also a lot more engaging than a dense table full of data.
4. Plan your reporting. Gathering your data and finding out deeper insights can be time-consuming. By using an automated dispatch platform, you can easily schedule and send reports without the stress. The platform will complete the time-consuming, monotonous tasks, freeing up your time.
Schedule reports with the click of a button
Most clients expect consistent, regular reports on how you are meeting their marketing objectives. They want to know where their money is going, and they want to see results.
Our automated all-in-one platform features the option to schedule reports. These are automatically sent directly to your client's email inbox and are customisable.
You can tailor your report by adding your own logo, language, send the interval and the time period you wish to report on.
The reports are set up to send however often you choose; this could be daily, weekly or monthly. You no longer have to remember to send your client a report every week, as our platform does it all for you. Consistency is key, and you can showcase your progress easily and save time.
Sidebar menu explained
Along the side of the page, you can find all the different options for viewing your account.
Simplify your activities
Handling many activities at once is stressful, never mind handling many activities for different clients. This is where our activities menu comes in handy.

Activities is where you can find your upcoming schedule which displays all activities for all your clients. For example, meetings with clients or project deadlines.
You can also find a quick breakdown of your agenda at the top of the screen, which is filtered by completed, overdue, tomorrow, next week or this week. 
To add an activity, simply click "create activity" and fill out the information. You must select a client to associate with this activity.
This is a great feature to be able to manage all of your deadlines/meetings in one location, instead of logging into multiple different tools. This will simplify your schedule and give you more control over your time and productivity.
Easily manage all of your reports
In this menu, you can manage all of your clients' reports. Here, you can type in your client's email address, select which type of report you want to send, schedule a time and date and select what the report should contain.
To manage individual client's reports, simply log in to the unique client dashboard where you can edit and view their reports.
Usage Management and Account
Here, you can get an overview of your account, and view details like your invoices, language and your company profile.
Offer your clients something extra
Our unique white label feature is a great way to provide your client with an additional service.
Clients can access their own dashboard and see their real-time data. Instead of contacting you every time they need a specific piece of data, your client can log in to their dashboard and quickly see their own statistics. Saving time and increasing efficiency for both parties.
In this menu, you can tailor your client's dashboards with your own logo and brand colours.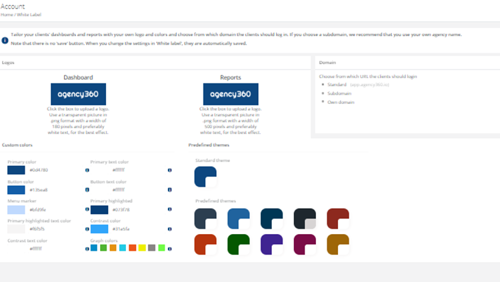 Providing a dashboard service to your clients allows them to visualise their data in an easy to read and interactive format. Your client can track your progress and see all of your hard work!
If you have any questions or need any further assistance, feel free to contact us here.